Gifts and Decor
The Wonders of Spring…
It was such a pleasure to sink one's hands into the warm earth, to feel at one's fingertips the possibilities of the new season. ~Kate Morton, The Forgotten Garden


The possibilities are endless when it comes to your yard and landscape, and that extends to the décor that you add to complement and enhance the living beauty around you.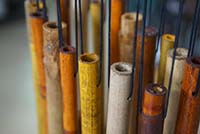 Whether it's a bubbling fountain, beautiful pottery or statuary that suits you, Van Atta's has garden décor from silly and whimsical to elegant and classic, and everything in between.
If your outdoor decorating style is hanging a flower pot on your porch and calling it good, we still have plenty of beautiful things to tempt you. A gorgeous selection of scarves, handbags, soaps, candles and other boutique items awaits you at Van Atta's, along with indoor décor and gift items, and greeting cards for every occasion.