Annuals
What's Growing On?


The greenhouse is full of mums for the fall season! Some are just starting to show color, but will bloom throughout the coming season. Other things you'll find in our greenhouse later this fall include:
Pansies
Asters
Ornamental cabbage,
kale, and swiss chard
Dianthus
Dusty Miller
Ornamental peppers
Grasses
2018 Mum Prices
4" Pots: $3.99
6" Pots: $6.99
10" Pots: $9.99
14" Pots: $26.99
10" Hanging Basket: $9.99


Fall Combo Pots
 Combo pots made up with all the colors and textures fall flowers have to offer turn out incredibly beautiful! If you are interested in using your own pottery or having a specialty fall combo pot made, we provide that service. It's best to bring in containers or request special orders as early in the season as possible to assure you receive your preferred plants, as we do run out of product as the season progresses.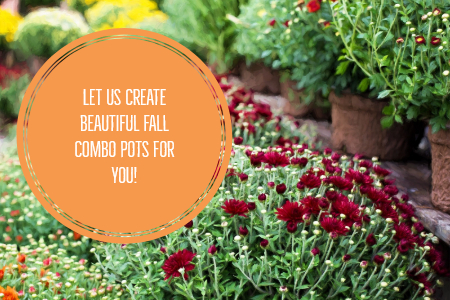 Explore our Plant Finder for annuals we can and do carry throughout the season.